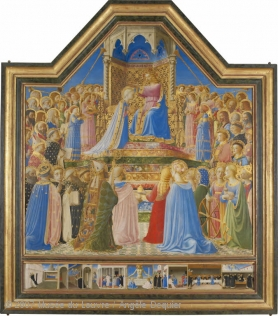 Off to see famous paintings at the Louvre?
With some of the most famous paintings in the world housed in Paris' art museums, don't get overwhelmed - take this Louvre museum itinerary to ensure you'll see some of the best paintings in art history.
From some 17,000 pages of art history books, Masterpiece Cards determined which famous paintings are most often cited. We picked the top 250; got art historians to provide analysis of these famous paintings; added reproductions; and packed it onto art history flashcards called Masterpiece Cards.
Based on our research using opinions from forty art historians, be sure to see these famous paintings at the Louvre (ones in bold are featured in Masterpiece Cards):
Angelico, Fra. The Coronation of the Virgin, ca. 1430 - 32. Above, left.
Boucher, François. Diana Resting after Her Bath, 1742
Brueghel, Jan. The Battle at Issus, 1602
Brueghel, Pieter The Elder. The Beggars, 1568
Chardin, Jean-Baptiste Siméon. The Return from Market, 1739 (right)
Clouet, Jean. Portrait of Francis I, 1525-1530
Corot, Jean-Baptiste-Camille. Woman in Blue, 1874
Correggio. Venus, Satyr, and Cupid (erroneously called The Sleep of Antiope), ca.1524 - 25
Cranach, Lucas. Venus Standing in a Landscape, 1529. Read about the Louvre's 2011 purchase of The Three Graces by Cranach.
David, Gerard. The Marriage Feast at Cana, ca. 1511
David, Jacques-Louis. The Sabine Woman, 1799
Delacroix, Eugène. Women of Algiers, 1834; The Massacre at Chios, 1824; and the best known work by Eugene Delacroix, Liberty Leading the People, 1830.
Delacroix, Eugène. Death of Sardanapalus, 1827-28
Delacroix, Eugène. The Bark of Dante (Dante and Virgil in Hell), 1822
Géricault, Theodore. Mounted Officer of the Imperial Guard, 1812
Géricault, Theodore. Raft of the "Medusa", 1818 – 1819 (left).
Géricault, Theodore. The Madwoman, ca. 1822
Greuze, Jean-Baptiste. L'Accordee du Village (The Village Betrothal), 1761
Gros, Antoine-Jean. Napoleon in the Plague House at Jaffa, 1804. Learn how this propagandist work was used to promote Napoleon's humanitarian side, even though he here cares for troops he poisoned.
Holbein, Hans.

Erasmus

, 1523
Ingres, Jean-Auguste-Dominique. Oedipus and the Sphinx, 1808. Below.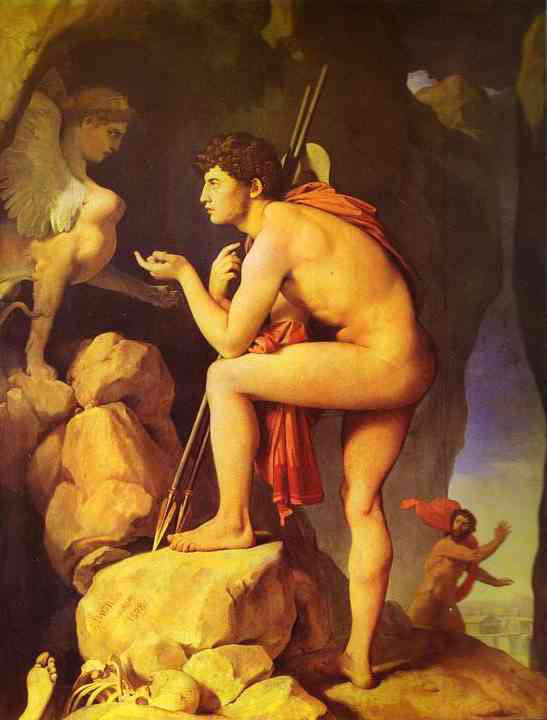 Ingres, Jean-Auguste-Dominique. The Turkish Bath, 1862 and Grande Odalisque, 1814. Learn about Ingres, one of the most famous painters in the first half of the 19th century.
Ingres, Jean-Auguste-Dominique. Valpincon Bather, 1808
Jordaens, Jacob. The Four Evangelists, ca.1625
La Tour, Georges de. Joseph the Carpenter, ca. 1642
Le Nain, Louis. La Charette (The Cart)
Leonardo da Vinci. Madonna and Child with Saint Anne, ca. 1503 - 1506. (right).

Explore more

Leonardo paintings.
Read about a newly authenticated Leonardo da Vinci painting (July 2011).
And... explore the alleged "earlier" version of Mona Lisa, announced in February 2012.
Leonardo da Vinci. The Virgin of the Rocks, ca.1485. Right.
Leonardo da Vinci. The Mona Lisa, ca. 1505.
Mantegna, Andrea. Calvary, 1456 – 1459. Read about Dead Christ, another Mantegna masterpiece.
Memling, Hans. Portrait of an Old Woman, ca. 1470-1475
Metsys, Quentin. The Banker and His Wife, 1514
Poussin, Nicolas. Et in Arcadia ego (Even in Arcadia I am), 1638 - 1639. Learn about other famous art by Poussin.
Poussin, Nicolas. Echo and Narcissus, ca. 1627 - 1628.
Prud'Hon, Pierre-Paul. Empress Josephine, 1805. Left.
Quarton, Enguerrand. Pieta of Avignon, ca. 1450
Raphael (Raffaello Sanzio). The Virgin and Child with St. John the Baptist, 1507. Discover one of the most beloved Raphael paintings, Sistine Madonna.
Raphael (Raffaello Sanzio). Baldassare Castiglione, ca.1514
Rembrandt. The Flayed Ox, 1655. Read the fascinating history behind Rembrandt's Night Watch.
Rembrandt. Supper at Emmaus, 1648. Discover the Rembrandt paintings in the most extensive collection in the Rijksmuseum
Renoir, Pierre-Auguste. Le Moulin de la Galette, 1876
Ribera, Jusepe de. The Boy with the Clubfoot, 1642
Rigaud, Hyacinthe. Portrait of Louis XIV, 1701. Right. He was famously vain about his legs.
Rubens, Peter Paul. Disembarkation of Marie de'Medici at the Port of Marseilles on November 3, 1600, 1622 – 1625. Read about other Rubens paintings!
School of Fontainebleau. Gabrielle d'Estrées and One of her Sisters in the Bath, ca. 1594 - 1599
School of Fontainebleau. Diana the Huntress, ca. 1550.
Titian. Man with the Glove, ca. 1520-23. Delve into the art history behind one of the best Titian paintings.
van Dyck, Sir Anthony. Charles I of England, ca. 1635
Veronese (Paolo Caliari). The Marriage at Cana, 1562-63
Veronese (Paolo Caliari). The Supper at Emmaus, ca. 1559-60
Watteau, Jean-Antoine. Embarkation for Cythera, 1717
NEW: Download this information in the free Famous Paintings in the Louvre ebook - you'll be able to sort these Louvre paintings by artist name, year created and title, and get some insightful blog posts sharing their art history!
Like Art History?
You're in the right place!
Please join this blog, Famous Paintings Reviewed, by the producers of Masterpiece Cards, a boxed set of art history flashcards about 250 world famous
paintings.
You'll get weekly-ish articles about famous paintings (or ones we feel need more exposure), written for those without an art history education.
Plus, you'll be automatically entered to win a free set of Cards - a $75 value - given away each month!