Among the most famous paintings in Renaissance art, Arnolfini Portrait has been enigmatic since Jan van Eyck (ca. 1370/90 - 1441) painted it over 450 years ago.
He left no documents to clarify the meaning of Arnolfini Portrait; furthermore, little is known of van Eyck's early life or training. One of the few facts about van Eyck, gleaned from court and legal documents, is that he was retained in 1425 by Philip the Good, the duke of Burgundy (best known for having captured Joan of Arc).
Although art historians generally attribute 25 Renaissance paintings to Jan van Eyck, that number is somewhat uncertain because signatures are rare on 15th century paintings. Instead, painters signed the frames but they were often lost or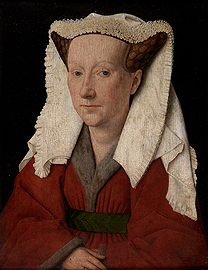 Right: Jan van Eyck. Margaret, The Artist's Wife, 1439. Oil on oak, 1439. Approx. 13" x 10". On loan at National Gallery, London, from City Museums (Bruges)
replaced.
In the case of van Eyck's Renaissance paintings, at least two bear his signature: Man in a Red Turban, believed to be a self-portrait (below) and Margaret, The Artist's Wife (right).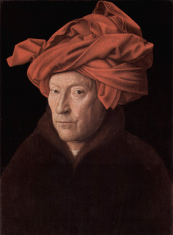 Jan van Eyck. Man in a Red Turban (Self Portrait?), 1433. Tempera and oil on wood. 13 1/8" x 10 1/8". National Gallery, London.
In both cases, the original frame bears van Eyck's motto, "Als ik kan", or the pun, "As I or Eyck can". While Arnolfini Portrait lacks its original frame, art historians agree that it's a Jan van Eyck painting, but disagree about its interpretation.
Above the concave mirror on the back wall, van Eyck has inscribed, "Johannes de eyck fuit hic 1934", which translates as "Jan van Eyck was here, 1434". Typically, though, a painting in 15th century Flanders would have been signed, "Jan van Eyck made this".
The verbiage Jan van Eyck used in Arnolfini Portrait is what an eyewitness to a legal document would've used, fueling controversy about whether this is a wedding portrait of Giovanni Arnolfini and his wife, or a "power of attorney" painting in which the husband grants legal permission for his wife to act on his behalf during an absence.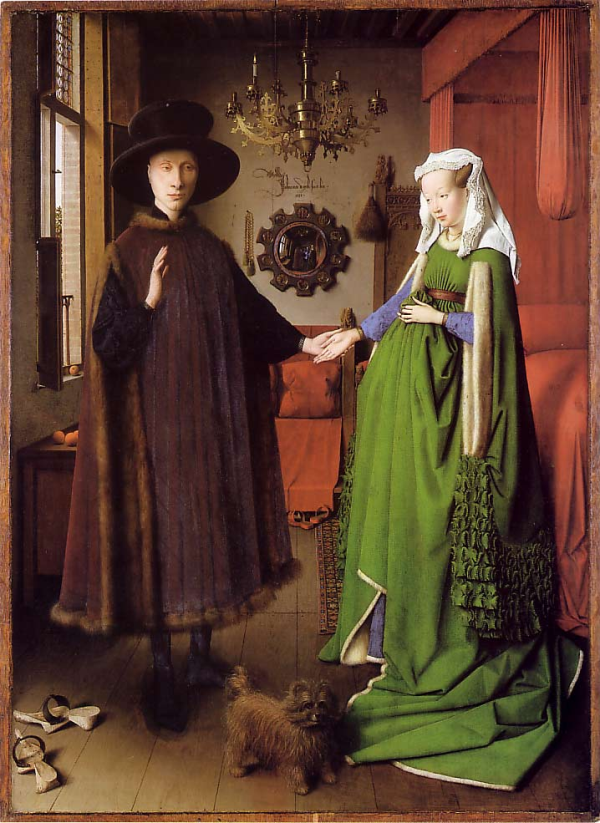 If Arnolfini Portrait is a wedding portrait, we can safely surmise that Giovanni is 30 years old or younger: in 15th century Flanders, a marriage ultimatum was given to unmarried men who were thirty, with names of those who failed to marry recorded in the dreaded "Book of Disgrace".
Jan van Eyck. Arnolfini Portrait, 1434. Oil on wood. 32 1/4" x 23 1/2". National Gallery, London.
The German scholar Erwin Panofsy asserted in 1934 that Arnolfini Portrait was indeed a wedding portrait, with van Eyck seen in the mirror's reflection and his signature verifying his presence. Corroborating this claim, various Arnolfini Portrait features are associated with matrimony:
the couple has removed their shoes in recognition of the sanctity of the bedchamber, turning it into a holy place;

the bedpost finial is a wooden statue of the patron saint of childbirth, Saint Margaret, a nod to the fertility sought in marriage;

the fruit on the windowsill and chest allude to abundance or fertility;

honoring customs of the Renaissance, the woman's robe is cinched above her stomach, giving the appearance of pregnancy but intended to emphasize fertility.

while the dog is a rare breed (affenpinscher) indicating the couple's prosperity, it is also a traditional symbol of fidelity (thanks to Gardner's Fred Kleiner for noting that the common dog name "Fido" comes from the Latin fido, to trust, the root of 'fidelity);

the ten roundels surrounding the mirror show the Passion of Christ, suggesting the Christian idea that the "eye of God" will watch the newlywed couple.
Research by Lorne Campbell in 1998, however, contends that Arnolfini Portrait is a double portrait and not a wedding picture. Campbell states that the wedding ceremony Panofsky cited in his argument occurred in 1447 -- four years after Jan van Eyck signed Arnolfini Portrait, and also six years after van Eyck's death.
Barring newly discovered historical documents, Arnolfini Portrait will remain enigmatic, with the intentions of the artist and patron unclear.
Learning about famous paintings?
Have we got the tool for you.
Imagine 250 of the most famous paintings made in over five centuries of art history...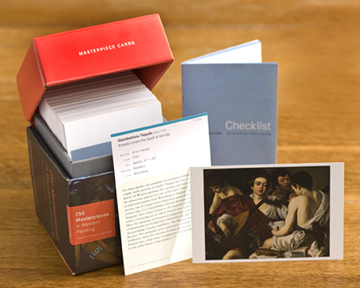 reproduced on portable flashcards... with an introductory essay and key facts about each one.
All to have and to hold (and to compare and examine and compare and...). And to master the history of painting with joy.
Look at a sample or two.
_______________________________________________________________________________________________________________________________________________________________________________