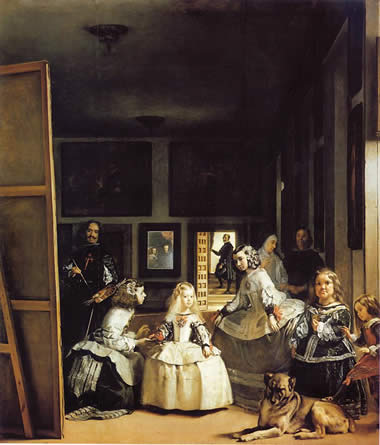 Although the youthful famous paintings by Picasso are touted by the Picasso museum in Barcelona, I think the Picasso paintings titled Las Meninas are the real masterpieces there.
Picasso, who didn't shrink from measuring himself against famous painters from other art periods, explored and interpreted famous paintings by Courbet, Manet, El Greco, and Velazquez.
Diego Velazquez. Las Meninas (The Maids of Honor), 1656. Oil on canvas, 10'5" by 9' Museo del Prado, Madrid.
Between August and September of 1957, Picasso delved into a thorough analysis of Las Meninas, one of the most celebrated Velazquez paintings. His interpretative analysis of Velazquez' Las Meninas yielded the 58 Picasso paintings that comprise the Picasso Las Meninas series. Picasso commented:
If anyone were to try to copy Las Meninas in complete good faith, and for example, got to a certain point - and if I were the copier - I would say to myself, "If I just put this a little more to the right or left?". I would try to do it my own way, forgetting about Velazquez.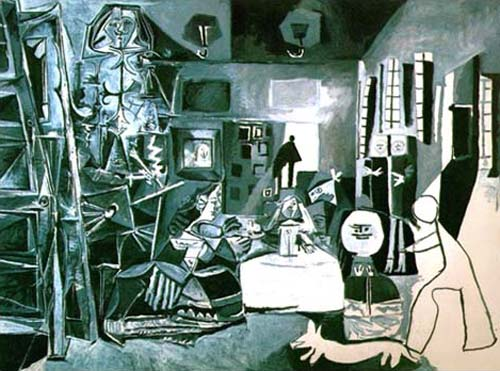 In each of these Picasso paintings, it's fascinating to observe which elements of the Velazquez Las Meninas Picasso preserved and which he altered.
Among the more prominent changes by Picasso are:
altering the picture format from vertical to horizontal, and

opening the windows on the right which Velazquez had painted closed.
In Las Meninas (Group), Picasso retains the two groups from the Velazquez Las Meninas:
1. Agustina de Sarmiento and the Infanta Margaritz, and
2. the trio of Isabel de Velasco, Maribarbola and Nicolasito in the right foreground. His variation here is nearly stripped of all color, turning this famous painting into grisaille.
Pablo Picasso. Las Meninas (Group), 1957. Oil on canvas, approx. 6'4" by 8'6". Museo Picasso, Barcelona.
Picasso reinstates color in subsequent variations on Las Meninas as he explores studies of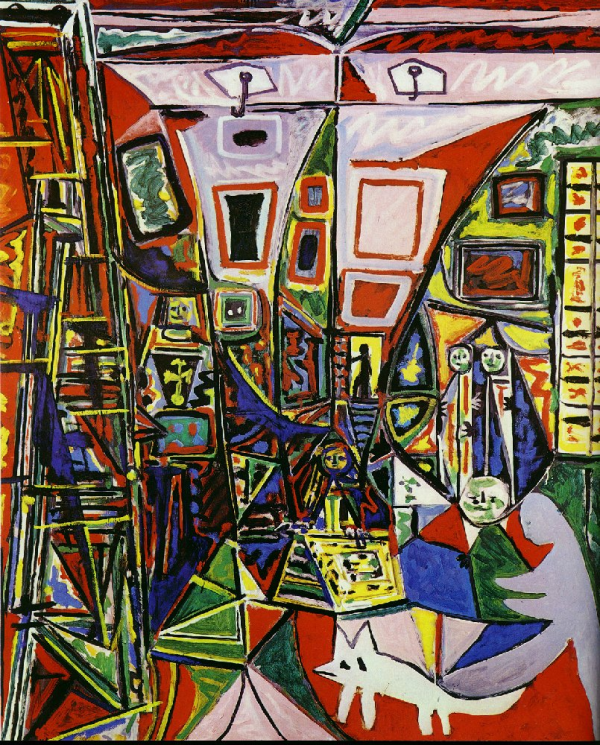 Pablo Picasso. Las Meninas (Group), 1957. Oil on canvas, approx. 6'4" by 8'6". Museu Picasso, Barcelona.
the intact groups Velazquez presented; in other Picasso paintings, he delves into individual portraits and portraits of each of the trios.
It's a marvel to see this entire ensemble of Picasso paintings in one place... while it's nearly incomprehensible that Picasso completed his Las Meninas paintings in only four months.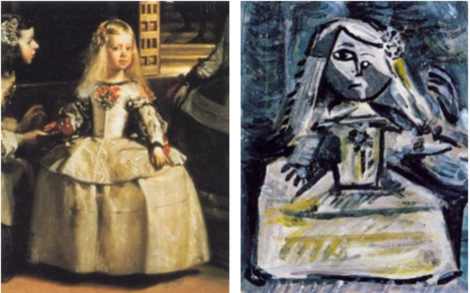 If you, too, are lucky enough to view these Picasso paintings... let us know how you like his riff on Velazquez!
Like What You Just Read? Then please join this art history blog and community of art history fans.
Want to learn about more Picasso paintings? Explore his Girl Before a Mirror and Portrait of Gertrude Stein.