One of the most famous Goya paintings -- and a splendid example of how art paintings capture history - is his Family of Charles IV. When Francisco Goya ((1746 - 1828) created Family of Charles IV, he was 54, had been deaf for seven years, and had recently been appointed first painter to the Spanish king, Charles IV.
Goya was heavily influenced by the famous artwork of the Spanish Royal Collection, as seen by the inclusion of his own self-portrait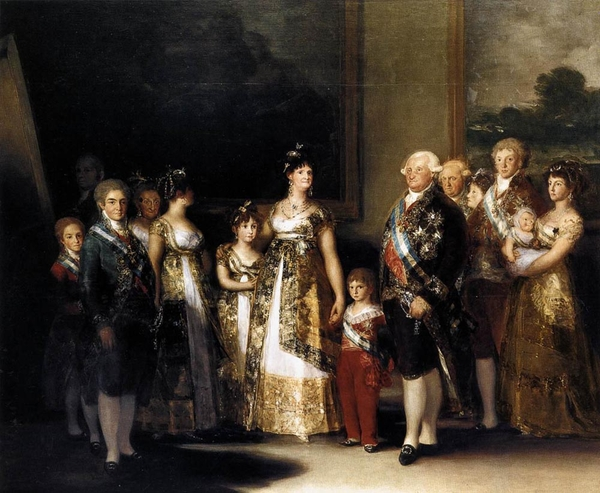 with his patrons (that's Goya in the shadows, toiling on a massive canvas). This Goya portrait evokes Velazquez's own portrait captured in one of the most well known Velazquez paintings, Las Meninas (below), of the family of King Philip IV of Spain - and begs a direct comparison to the famous painter.
Above: Francisco Goya. The Family of Charles IV, 1800. Oil on canvas, 9' 2" by 11'. Museo del Prado, Madrid.
In the left foreground of Family of Charles IV, resplendent in a blue, embroidered costume, is Ferdinand, Prince of the Asturias. He was heir to the throne but nonetheless orchestrated a
Velazquez. Las Meninas, 1656. Oil on canvas. 10' 7" by 9' .5". Museo del Prado, Madrid.
coup d'etat against his parents in 1808.
After the occupying French forces were ousted by the Duke of Wellington -- the horror of this reign is captured in one of the most memorable Goya paintings, Executions of the Third of May, 1808 -- Ferdinand assumed the throne and reigned as a despot. His deplorable acts included eliminating free speech and banishing liberals -- including Goya, who fled in 1824 to Bordeaux, France, where he remained in exile until his death in 1828.
All of the court members in Family of Charles IV are identifiable, with one notable exception - the woman to Ferdinand's left, with her face averted, is a stand-in for his future, yet-to-be-determined wife. In the center of the canvas looms the queen, Maria Luisa.
Although Spain was a devoutly Roman Catholic country during these years, Maria Luisa and her paramour, the politican Manuel Godoy, essentially ruled Spain (with their illicit affair memorialized in this famous artwork). To Maria Luisa's left is the king himself, who, despite lavish clothing laden with awards and jewelry, was a weak and ineffectual ruler.
Some art historians contend that this Goya painting is an expose of Spain's royal family, depicting them, Marilyn Stokstad notes, "as common, ugly, and inept." Stokstad disagrees, observing that the royal family approved Goya's preliminary sketches for Family of Charles IV. Further, it seems highly unlikely that Goya would so publicly or permanently disparage his patrons. "Don't bite the hand that feeds you" was true even two centuries ago!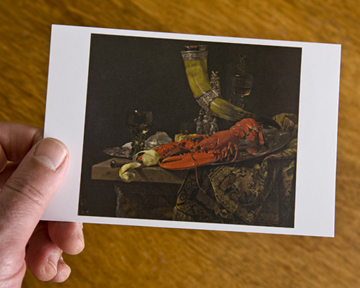 Like famous paintings?
Explore them in this set of 250 art history flashcards, spanning over 500 years of art history.
It's an overview of the history of painting, to have, hold, study, compare, and to know must-see masterpieces in US and Europe's art museums.