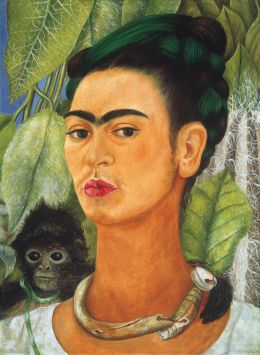 The Albright-Knox Art Gallery is one of those rare art museums with an art collection that belies its size and location. It's one of those regional art museums, like the Isabella Stewart Gardner Museum and Frick Collection, that invariably delights.
Frida Kahlo, Self-Portrait with Monkey. Oil on canvas, 1938. 16" by 12".
My opinion is shared with esteemed company (which I discovered after my visit!). Thomas Hoving, past president of the Metropolitan Museum, said:
"The Albright-Knox Art Gallery should be on everyone's list to see, for it's an overwhelming art experience. Small, intimate, and seductive, the museum has one of the most thumping modern and contemporary collections in the world."
This art museum is especially strong in post-war American and European paintings. In no particular order, here are some of the works of art currently displayed:
One of the most widely recognized Frida Kahlo paintings, Self-Portrait with a Monkey (above) is diminutive at 16" by 12". Nonetheless, Kahlo conveys intense confidence and power while simultaneously applying paint in a dainty manner. The detail - in the veins of the various leaves behind her, in the monkey's fur, in the hair on her upper lip - is exacting and even somewhat shocking.
One of the first American Abstract Expressionists, the Armenian-born Arshile Gorky (1904-1908) was, by 1944, painting in
Arshile Gorky, The Liver is the Cock's Comb. Oil on canvas, 1944. 73 1/4" by 98".
a style that synthesized Cubism, automatism, and Surrealism. The Liver is the Cock's Comb - arguably his best known painting - is a blend of biomorphic and sexually suggestive shapes painted frenetically but with exacting precision. Gorky uses thin black lines to delineate form, as if carving and defining known shapes.
The Russian painter, Chaim Soutine (1893-1943) flaunts his prowess as a master of color in Carcass of Beef (right). His brushstrokes, as in Little Pastry Cook, are explosive and lush with paint.
Chaim Soutine, Carcass of Beef. Oil on canvas, ca. 1925.
The carcass, which nearly overwhelms the picture plane, is an alive, pulsating and menacing personality.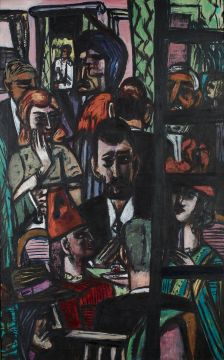 Equally foreboding is Hotel Lobby by Max Beckmann (1884-1950). Knowing that Beckmann's art was informed by the cruelty and suffering of World War II,

Max Beckmann, Hotel Lobby. Oil on canvas, 1950. 56" by 35". Albright-Knox Art Gallery, NY.

it's hard to read this Beckmann painting as just a crowded hotel lobby. The man with his back to the viewer (center foreground) might be eating at the table glimpsed over his left ear, but he might also be blocking the crowd from exiting. The ambiguity is unsettling (and pure Beckmann).
Coming next... More famous artwork at the Albright-Knox!