Although Sofonisba Anguissola (1532-1625) was one of the most famous female painters (if not the most famous) of the Italian Renaissance, she is somewhat obscure in today's history of art. Here's a small start to changing the legacy of this remarkable painter.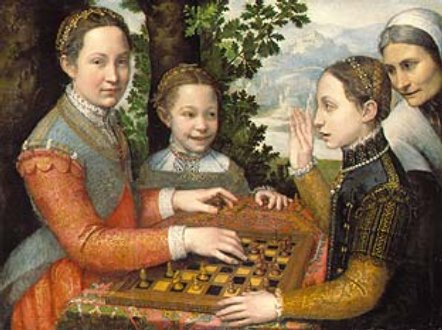 Her name comes from a Carthaginian princess deemed "exceedingly beautiful and notable, both in music and in writing", which were aspirations held by her father Amilcare.
Sofonisba Anguissola, Three Sisters Playing Chess. Oil on canvas, 1555. Approximately 28" by 38".
He subscribed to the education philosophy of Baldassare de Castiglione, who professed in The Courtesan (1528) that females should receive the education typically reserved for males; as such, Sofonisba Anguissola and her five younger sisters were taught music, painting, Latin and the humanities.
Sofonisba Anguissola, excelling at a young age, studied with the painters, Bernardino Campi and Bernardino Gatti. Forbidden from seeing nude men in anatomy or life drawing classes, Anguissola focused on portraiture. By the age of 15, she was renowned for their expressiveness. At 20, Sofonisba Anguissola created one of her most famous paintings, Three Sisters Playing Chess (above), a well-known masterpiece of the Renaissance art.
Her sister, Lucia, gazes confidently at the viewer after capturing the queen of Minerva, who raises her right hand in surprise. The youngest sister, Europa, is captured in a flash of spontaneous laughter while a servant looks on; the match unfolds before the hazy background painted in the Renaissance art technique of sfumato.
Sofonisba Anguissola had a dash of the revolutionary about her -- not only was this portrayal of an everyday, informal domestic scene, or genre painting, the first in Italian painting, but also chess was typically played only by upper class men or nobility, not women; they were painted performing domestic pursuits.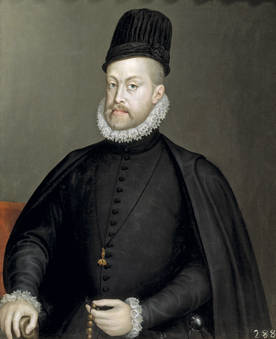 As her reputation spread beyond Italy, Phillip II of Spain asked Sofonisba Anguissola to become lady-in-waiting and art teacher to Queen Isabella of Valois.
Sofonisba Anguissola, Phillip II of Spain. Oil on board, circa 1564. Prado, Madrid.
Anguissola left her native Cremona in 1559, and spent the next decade painting all members of the royal family, including a portrait of the Queen commissioned by the Pope.
Instead of being compensated with monetary payments as male court painters were, female artists like Sofonisba Anguissola often received luxurious gifts for which no records were kept. As such, there are fewer historical clues - and much controversy - in attributing paintings to Sofonisba Anguissola.
One such painting is Phillip II of Spain, originally attributed to Alonso Sanchez Coello, a fellow court painter, but attributed to Anguissola in 1996. She portrays a somber Phillip II fingering his Order of the Golden Fleece and dressed in the high hat and black clothing that typified his midlife.
Perhaps after more Sofonisba Anguissola paintings are identified, she'll regain the stature she had with the Florentine biographer, Filippo Baldinucci: in his book Lives (1681), he lavishly praised Sofonisba Anguissola and compared her to one of the most famous painters of all, Titian.