Now that summer art exhibitions are pulling in hordes of tourists and visitors, it's time to focus on which art shows are worth the crowds! Our pics for the best current and upcoming art exhibitions are:
Philadelphia Museum of Art: Gauguin, Cézanne, Matisse: Visions of Arcadia
The notion of Utopia -- or visions of Arcadia - captured the imagination of these famous painters. Three of their best known paintings form the backbone of this art exhibition.

Gauguin's Where Do We Come From? What Are We? Where Are We Going?, seldom seen
Paul Gauguin. Where Do We Come From? What Are We? Where Are We Going? Oil on canvas, 54 3/4" x 147 1/2". Museum of Fine Arts, Boston.
outside its Boston home, is paired with Cézanne's The Large Bathers (read more about Cezanne Bathers) and Matisse's Bathers by a River (explore more famous paintings by Matisse. June 20 to September 3. Closed Mondays.
The Barnes Foundation, Philadelphia
One of the most outstanding small art museums anywhere. Period. Recently opened in its new Philadelphia location, the Barnes Foundation's permanent collection alone rivals many blockbuster art exhibitions. It includes over 100 masterpieces of modern French painting, like
24 Renoir paintings,

30 Cezanne paintings, and

20 Matisse paintings, including Bonheur de vivre.
Then there are well known paintings by other famous painters including van Gogh, Seurat, Gauguin, Toulouse-Lautrec, Courbet, and Chaim Soutine, as well as Barnes' collection of African art, American art, and European decorative arts. Incredible. Closed Tuesdays.
Jewish Museum: Edouard Vuillard: A Painter and His Muses, 1890-1940. New York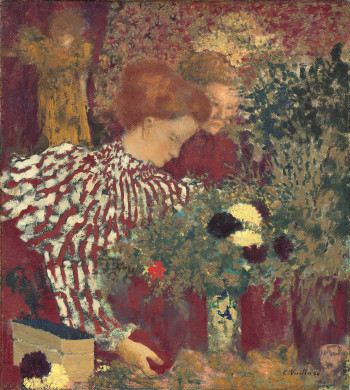 As a member of the Nabis, an avant-gard group of artists who championed Paul Gauguin and his use of flat, simplified form, Edouard Vuillard produced some of his most famous paintings of interiors and friends.
Edouard Vuillard. Woman in a Striped Dress, 1895. Oil on canvas, 34 3/4 x 33 1/16 x 3 1/2". National Gallery of Art, Collection of Mr. and Mrs.
Paul Mellon.
Through September 23. Closed Wednesdays.
Museum of Modern Art: Cindy Sherman. New York
One of the most entertaining art exhibitions in recent memory. Run, don't walk, if you haven't yet seen this retrospective of photographer Cindy Sherman (it ends June 20). While paintings are generally my milieu, Sherman challenges the viewer to consider what representation means as she photographs herself in guises ranging from WWII pin-up girl to stuffy society doyenne in some 170 photographs.
MoMA is presently open 7 days a week.
National Gallery of Art. Joan Miró: The Ladder of Escape. Washington, D. C.
Promising to be one of summer's blockbuster art exhitibitions, The Ladder of Escape examines the artwork of Joan Miro (1893 - 1983) in the political and social contexts in which it was made, exploring influences of two world wars, the Spanish Civil War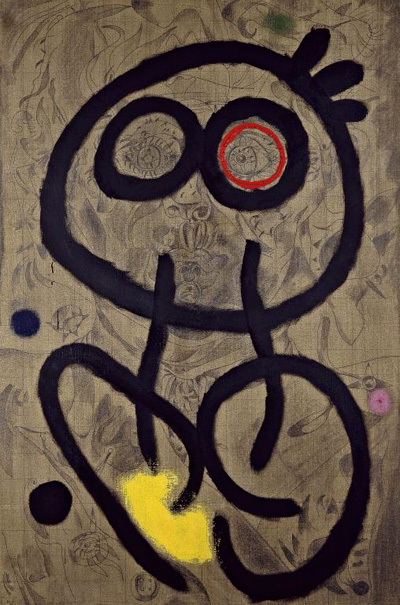 and the reign of Franco.
While not deemed a retrospective per se, the exhibition spans Miro's prolific career and shows some 120 works of art.
Joan Miro. Self-Portrait, 1937-1938, February 23, 1960, oil and pencil on canvas, Collection of Emilio Fernández, on loan to the Fundació Joan Miró, Barcelona.
Open 7 days a week. Runs until August 12.
Any other art exhibitions in the East that I've missed and need to be added?
Want to learn about the history of painting?
Join Famous Paintings Reviewed, the art history blog from Masterpiece Cards. Our mission is to reveal how fascinating art history is... told in layperson's terms.