The Met Bruer's upcoming show, "Edvard Munch: Between the Clock and the Bed", seeks to dispel a long-standing, often repeated assessment of this Norwegian painter: that after a nervous breakdown in 1908-09, the quality of his work plummeted and he was no longer one of the leading, famous painters shaping Modernism and the European art scene.
The early years of Munch (1863-1944) were steeped in tragedy and sickness. When he was five years old, his mother died from tuberculosis at the age of 33; his older sister, Sophie, was its next victim. It is not surprising, therefore, that themes of isolation, mortality, and angst are recurrent in Edvard Munch paintings.
Sick Child (1885-1886), which depicts his memory of his Sophie's early death, is one of six versions and one of the topics he returned to throughout this life. Of this version, he says,
"With The Sick Child I took a new direction - it was a breakthrough in my art."
It is also his farewell to realism. Details are few, the composition is rough, and the canvas is riddled with surface scratches. Exhibited under the title Study at the Autumn Exhibition of 1886, Sick Child was lambasted by critics and artists alike for its varying densities of paint application and unfinished appearance.
Sick Child, 1885-1886. Oil on canvas, approx. 47" by 47". National Museum of Art, Architecture, and Design, Oslo.
Although the Scandinavian was largely self-taught, he did take lessons with Leon Bonnat (1833-1922) in Paris and studied the Old Masters and famous painters of Impressionism and Post-Impressionism. His Night
in Saint-Cloud, evocative of Whistler's Nocturnes, was in his first solo show held in Berlin in November 1892. Exhibiting at the invitation of the Society of Artists in Berlin, the show of 55 Munch paintings enraged some Society members who objected to the "hideous and common pictures". The show closed after one week, and Munch was an overnight celebrity. His exhibition subsequently traveled to Dusseldorf, Cologne, Copenhagen, Dresden, and Munich.
Night in Saint-Cloud, 1890. Oil on canvas, approx. 25" by 21". National Museum of Art, Architecture, and Design, Oslo.
In 1891, Munch began work on a group of paintings called The Frieze of Life, a series of works on love, death, and the circle of life. The third chapter of The Frieze, addressing "The Fear of Living", includes The Scream and Evening on the Karl Johan.
Here, the Karl Johan, the best known and most magnificent boulevard in Oslo, has been converted into a parade of ghosts. The receding diagonal on the left melts into the rear of the throng and propels them inexorably forward. The evening light is dusky and menacing, and the figures appear to be hypnotized or in shock. Angst and threats permeate the air. A dark, solitary figure on the right has turned his back to the crowd. Is this Munch himself, a loner who had no wife or children, and kept his small circle of friends at a distance?
Evening on the Karl Johnan, 1892. Oil on canvas, 33 1/4" by 47 5/8". Art Institute of Chicago.
Although his career was advancing, his physical health was precarious. Sickly as a child and throughout his life, Munch was hospitalized with exhaustion and convalesced at a sanitorium in Faberg, Norway during 1899. Exhibitions continued throughout Europe; patrons and art museums purchased his work; and Munch continued to struggle with alcoholism and anxiety, culminating in a mental and physical collapse lasting for 8 months in 1908-1909.
Between the Clock and the Bed, 1940-1943. Oil on canvas, 58 7/8" x 47 1/2". Munch Museum, Oslo.
For the next three decades, Munch lived a secluded life in Norway during which he was purportedly cured of his illnesses. Some critics have contended that output from this chapter of his life was subordinate to his mature style of the 1890s. Curators of the Met Bruer, however, believe otherwise:
"As a painting about a painting, Between the Clock and the Bed dispels the myth of a decline in the quality of Munch's work as he aged. Instead, we can trace a sustained and intense preoccupation with the physical aspects of painting practice..." (1)
Questions abound about this Munch painting, his last major self-portrait before his death:
Why does the grandfather clock lack hands?
Why is one fist clenched and the other so relaxed?
Why is there no discernible emotion on the artist's face?
Between the Clock and the Bed opens at the Met Bruer on November 15, 2017 and runs until February 4, 2018. If you visit before I do, please send your opinions (and answers to the questions above).
1. Gary Garrels, Jon-Ove Steihaug, and Sheena Wagstaff. Edvard Munch: Between the Clock and the Bed. The Met: New York, 2017.
Curious about famous paintings? Join this blog for bi-monthly posts, and be automatically entered to win a set of Masterpiece Cards, a $60 value.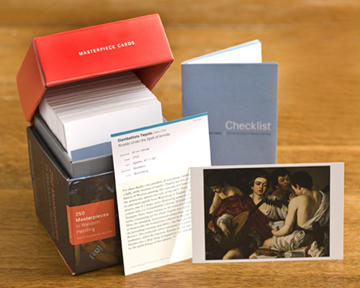 These art history flashcards are a hand-held survey of the Western history of painting, incorporating nearly six centuries of art history. Each Masterpiece Card features a faithful reproduction, key facts about the work, and an art historian's essay explaining its meaning.
There is nothing like them (which we back up with a guarantee of 100% satisfaction).